Summer in my mind equates with good old fashioned mess. Squishy wet beach sand between your toes as you prance along without shoes. The tangy sweet smell of sunscreen on warm, tan skin fresh from the lake. Sticky, gooey and delicious campfire s'mores and burnt marshmallows squashed between your finger tips.
This mini-adventure is a fast a favourite at our house because of simplicity for mom, and sticky gooey dessert for the little people. So far, they haven't been able to sing along to my campfire songs. They will join in though if you sing the Paw Patrol theme song or Jake and the Neverland Pirates.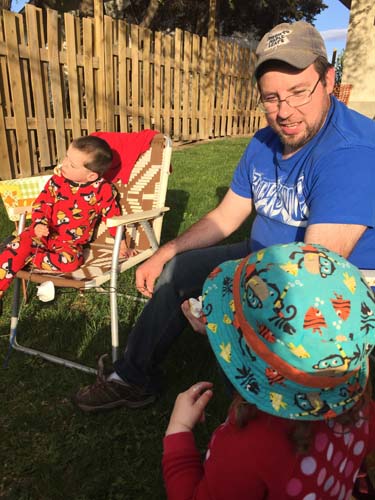 Items Needed:
Backyard firepit (old tire rim), check your local municipal fire codes to make sure this is on the up & up.
Roasting sticks or wire sticks
Marshmallows (the bigger the better)
Moist paper towel
Things to consider:
Which parent is watching how close they get to the fire? Do you have campfire rules?
If you can't have a fire in your backyard, do you have a local park where you could with a built-in fire pit?
Campfire Stories: Spooky? Books you can take out from the library to share outside?
Campfire Songs: do you know any to share? What songs do your kids love to sing?
Campfire Planning: Campfires typically start with an opening song (Fire's burning) and then build up to a crescendo of sound (think busy action songs), and then close with a song that makes you think, or a poem, reading that people will walk away thinking about.
Do you have campfires in your backyard? Where's your favourite place to roast marshmallows?