I Took My 14 Month Old Canoeing
One of our local outdoor enthusiasts maintains an email list called "Peek a Week" that features different hikes and adventures you can participate in throughout the year. Although I follow it and am always intrigued at all the adventures, we had not yet participated. Luckily, one that came up was for a Family Canoe trip, with mention of boats being available, so our family jumped at the chance to get out on the water.
Of course, with a 14 month old, this provided to be an additional challenge and required a little more thought. I know some parents wouldn't even attempt this, in fact, some of our nearest and dearest thought we were nuts.  But an outdoor adventure challenge has never stopped or slow us down before. So we girded our loins and dove in!
We canoed down Jarvis Creek (with the current) through Blue Lake and finally to Gregg Lake. All of these waterways are located in William A. Switzer Park, about 20 minutes outside of Hinton. The put in at Jarvis Creek is literally just the bridge, and not much else. Just pull-off, and unload. There is a gradual (although sometimes mucky) slope. (Note: The creek has to be high enough to do this – it isn't always!)  At the Gregg Lake end, there is a boat launch. You can also camp within the campground there too (reservable online at Alberta Parks). We parked one vehicle nearby at Kelly's Bathtub and the other at Gregg Lake.
The route is quite winding, especially in the beginning. We got up close and personal with wildlife. In some spots slightly shallow, and in others fast whitewater (but nothing too difficult). It also takes you within a hop skip and a jump of other campgrounds.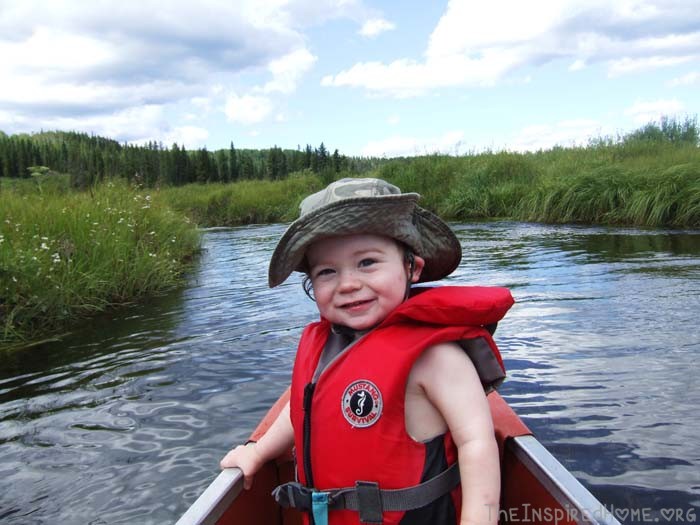 7 Tips for Family Canoeing with a Toddler
Pack smart. Don't forget sit upons, beach towels, snacks, juice boxes/sippy cup, hats, sunscreen, extra set of clothes, water and snacks. Don't bring anything that you would be afraid to see wet (aka your phone or camera!)
Sitting still is not a toddler. And this is one of the main parts about canoeing. Think about your child and how this goes together for your family. For us, I created a place between my legs, by my feet that Mr J could sit comfortably, and I could help him if the need arose. It was also tall enough that he could stand on the padding and see over the boat, and see the other people who were with us on the trip.
Think about what you'd like to sit on. The bottom of a canoe gets chilly, and sometimes wet. You need to provide a place for your toddler to sit on. We took an old pillow, beach towels, and my yoga mat (repels wetness) and made a comfortable little nook by layering them on each other.
 Provide distractions. Mr J loved putting his hand in the water and letting it trail, although he wasn't quite tall enough to do so. We daisy chained some water proof toys together with teething rings, and used a carabiner to secure it. Mr J could throw it overboard, and it would float along beside us. The rope that was attached to the canoe, we could do the same with. I didn't bring any toys I would be sorry to see at the bottom of the river. I imagine a milk bottle or pop bottle would float along with you well too! We also brought snacks and his sippy cup so that J could nosh on the go too.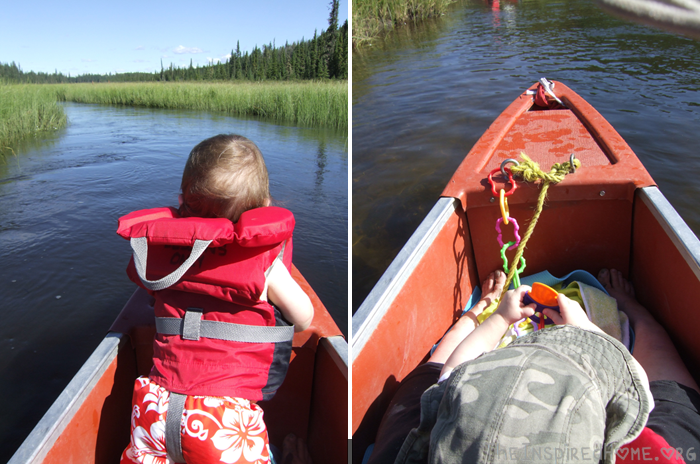 5. Expect that they will fall in. Because they will. J managed to fall in in the last 3/4 of our journey, and that's why he was wearing a PFD (lifejacket). I expected he would do this, so I quickly dropped my paddle and pulled him out with the hook on his lifejacket. It was over in 3 seconds. He didn't even yell, because I had the towel ready and waiting, and he just got a mouthful of water. I had him dressed in his bathing suit & UV shirt, so he dried out quickly.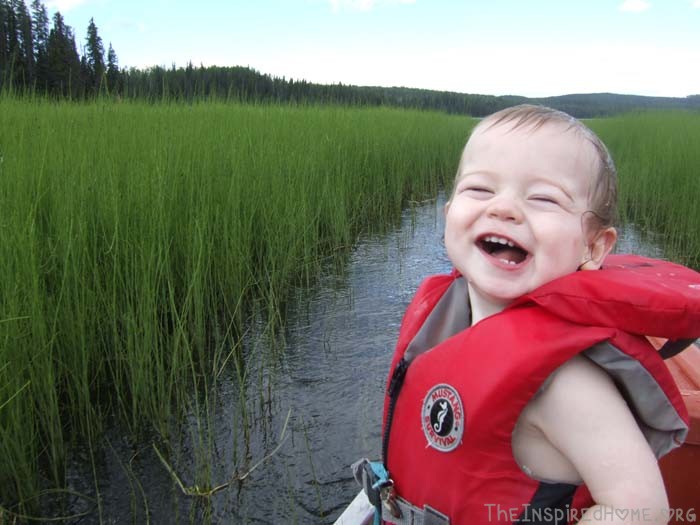 6. Expect the toddler may fall asleep. I'll admit it, if someone else was paddling, I'd fall asleep too. J did fall asleep around his regular nap time, and while we stopped for lunch, he dozed on. I used my lifejacket to prop him in the boat while he snoozed.
7. Know your skill. I admit, we did fall down a little bit on this one. We are fairly novice level canoers, and the first part of our journey, we had no problem once we got into a rhythm, however the end part of our journey involved whitewater and was a little above our comfort zone. We also almost tipped about 4 times. If we knew then what we know now, we probably would have taken the canoe out at the half way point. Without the help we had, this could have spelled disaster for  us, especially had we been alone.

All in all, it was a great family day out and everyone had a good time. We realized afterwards, we had paddled about 12 km by our rough estimating, so that was a great workout too!