Homemade GORP
GORP is just a fancy way of saying delicious trail mix with chocolate in it. There's nothing that quite says hiking like a reusable bag full of GORP. To me, it brings back memories of Girl Guides. I spent a lot of my youth walking along the Bruce Trail. Caving and scaling through rough terrain was my favourite.
Funny enough, I really haven't made much GORP since. But lately spending more time outdoors with Mr J, I found myself back at my roots. As I thought about what trail food we should take, the brilliant light bulb went off above my head and I scooted to the cupboard. Sure enough, it was simple, quick and easy.
And you know what else? It was delicious.
And I wasn't the only one who thought so. The refrain of "nuts mama!" got to be a little much.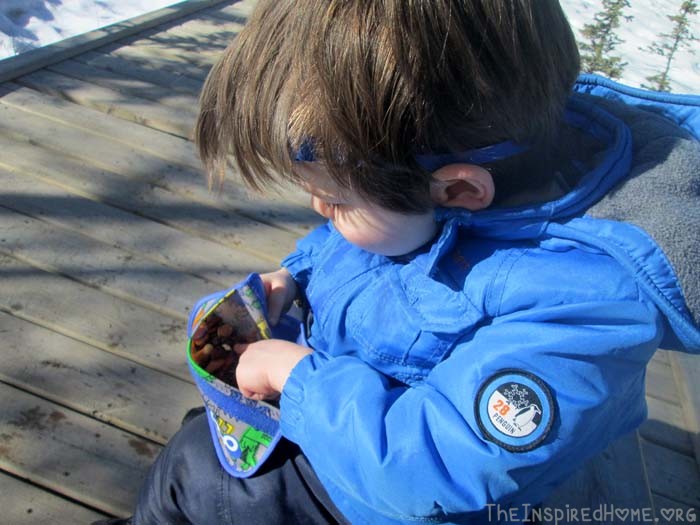 GORP is pretty much the perfect power food for hiking. It's easily transportable. You can make as little or as lot as you want. The chocolate provides a quick sugar rush & burst of energy to get you that much closer to the summit. The nuts provide you with a kick of protein that helps fuel your body. When you're burning up to 530 cal/hour, you have to make sure you're providing the engine with great fuel and hydration.
My favourite part is customizing the ingredients each time – some batches are better than others. But this is my favourite recipe so far.
Holly's Homemade GORP
A quick & simple trail snack to keep you fueled to reach the summit!
Ingredients
1

 

handful of raw almonds

2

 

handfuls of raw hazelnuts

1

 

handful of cashews

2

 

handfuls of Craisins

1/4

 

cup

 

of goji berries

1/4

 

cup

 

of raw sunflower seeds

1/4

 

cup

 

of raw pumpkin seeds

 

pepitas

2-3

 

handfuls of dark chocolate chips
Instructions
Throw everything into a large bowl or resealable container.

Shake! (This is more entertainment for the kids than anything).
Recipe Notes
Feel free to try different combinations of your favourite nuts & seeds!